Cake Mugs! Cake mugs are great anytime of the year, but especially in the fall and winter! I love during those seasons to  start thinking about cake mug recipes! They are so fun and easy to make, right there at home- so no need to rush out for a romantic dessert- just make a cake mug!
This list is also perfect right now as we approach Valentine's Day! Would be perfect to fix a dinner for two at home and then have a cake mug for each of you! If your spouse us deployed right now, well that is another thing I love about cake mugs- they are great for just yourself too! Give yourself a delicious and tasty treat!!!
Before I jump to the list of amazing recipes, I wanted to share a link to join my recipe group on facebook. Just click the image below –
I also wanted to share a few other recipes here on the site you might enjoy-
Reindeer Face  Mug w/ Red Nose
GUND Pusheen 12 oz Mug
Banana Chocolate Chip Cake Recipe Gift Mug
Microwave Strawberry Vanilla Mug Cake with Vanilla Buttercream Glaze – Averie Cooks
This mug cake is topped with a buttercream glaze and has strawberries woven into the cake. It makes one large portion for yourself or to share with a friend. She also has a vegan and gluten-free option!
Chocolate Snickers Mug Cake – Spaceships and Laser Beams
This mug cake includes Snickers and has caramel sauce poured over it. There is plenty of chocolate sweetness to enjoy!
Espresso Microwave Mug Cake – Skint Dad
This mug cake is great for coffee lovers and is ready in five minutes. Only six ingredients for an easy creation!
5 Minute Chocolate Fudge S'mores Mug Cake – How Sweet It Is
Who doesn't love S'Mores?! This mug cake only takes about 5 minutes to make and the recipe is easy enough to double or triple (for a friend, of course).
Honey Mug Cake Recipe – Sweet 2 Eat Baking
For a gooey mug cake, try this honey one. It has a buttercream frosting and is ready in about five minutes!
Get ready for fall and Thanksgiving with this mug cake. It makes 1-2 servings, but can easily be adapted for larger groups!
Red Velvet Mug Cake with Cream Cheese Frosting – Or So She Says
For a romantic mug cake, try this red velvet version! It has a cream cheese frosting that can be omitted if you prefer. Its deep red coloring is perfect for love and romance.
Healthy 1 Minute Low Carb Cinnamon Roll Mug Cake – The Big Man's World
Get the yummy tastes of cinnamon rolls in a mug cake serving for one! It is light and fluffy and has a glaze with a pinch of cinnamon it. There's also an oven option.
Strawberry Cake Recipe in a Mug – Crystal and Comp
This strawberry cake is topped with cool whip and pecans.
Hot Chocolate Mug Cake Recipe – My Little Me
Get the tastes of hot chocolate in this mini mug cake. Top it with marshmallows for a true hot chocolate feel. An excellent option for those cold winter days!
Carrot Cake in a Mug – Chocolate Covered Katie
Make yourself a single-serving sized carrot cake! It's healthy and takes less than five minutes to whip up. The results are amazing!
Lemon Poppy Seed Muffin Mug Cake – Five Heart Home
This mug cake is made with lemon juice. Poppy seeds are added or they can be left out.
Dark Chocolate Blackberry Mug Cake – The Pretty Bee
This chocolate cake with fresh blackberries is sweet and moist. This is a perfect cake for breakfast recipes!
Vegan Monkey Bread Mug Cake – Feasting on Fruit
This gluten-free mug cake has a sweet maple syrup topping. It's also oil-free and drizzled with caramel gooey deliciousness.
Blueberry Muffin Mug Cake – Five Heart Home
Enjoy the sweet tastes of blueberry muffins with this mug cake! This recipe is great when you're yearning for a taste of blueberry muffins, but only need a small serving.
Easiest Ever Banana Nut Mug Cake – Kid Blogger Network
Kid tested and kid approved, this is a super easy banana nut mug cake! It is great if you are just starting to try out mug cakes or the kids want to help make something.
2 Minute Coffee Cake in a Mug – Heather Likes Food
This coffee cake takes about two minutes to make. Another excellent choice for coffee lovers!
Peanut Butter Cookie Mug Cake – Mildly Meandering
Are there any peanut butter fans in your house? Try this yummy cookie mug cake!
Funfetti Mug Cake – Everyday Made Fresh
Add some colorful sprinkles in this mug cake for a bright look! It's great for a fun DIY birthday or party alternative to cupcakes.
Snickerdoodle Mug Cake – Sugar, Spice and Glitter
This snickerdoodle mug cake has all of the flavors of snickerdoodles in a favorable moist cake! It's topped with a cinnamon drizzle for extra cinnamon flavors.
Birthday Mug Cakes – The Cupcake Chronicles
Celebrate a birthday with this funfetti style mug cake! Add some whipped cream and a candle for a celebration.
5 Minute Microwave French Toast Mug Cake – Budget Bytes
Great for breakfast, this french toast mug cake means you can really eat cake for breakfast! Add fresh berries for some juicy and fresh flavors.
Easy No-Bake Lime Gluten Free Mug Cake – Fearless Dining
This lime cake only takes a minute and a half in the microwave to whip up. It comes with a lime icing and is gluten-free!
Chocolate Chip Mug Cakes – Kirbie Cravings
This warm and fluffy mug cake is simple with chocolate chips! It is pretty easy to make and fits perfectly in an 8 ounce mug.
Caffe Mocha Mug Cake – Cooking with Curls
Chocolate chips are mixed in this yummy mug cake! If you're new to mug cakes, she includes a bunch of different notes to help us mug cake beginners!
One Minute Low-Carb, Gluten-Free Chocolate Brownie Mug Cake – Low Carb Yum
This low-carb mug cake is sweet and delicious! It only takes one minute to make and is easy to whip up to satisfy a sweet tooth.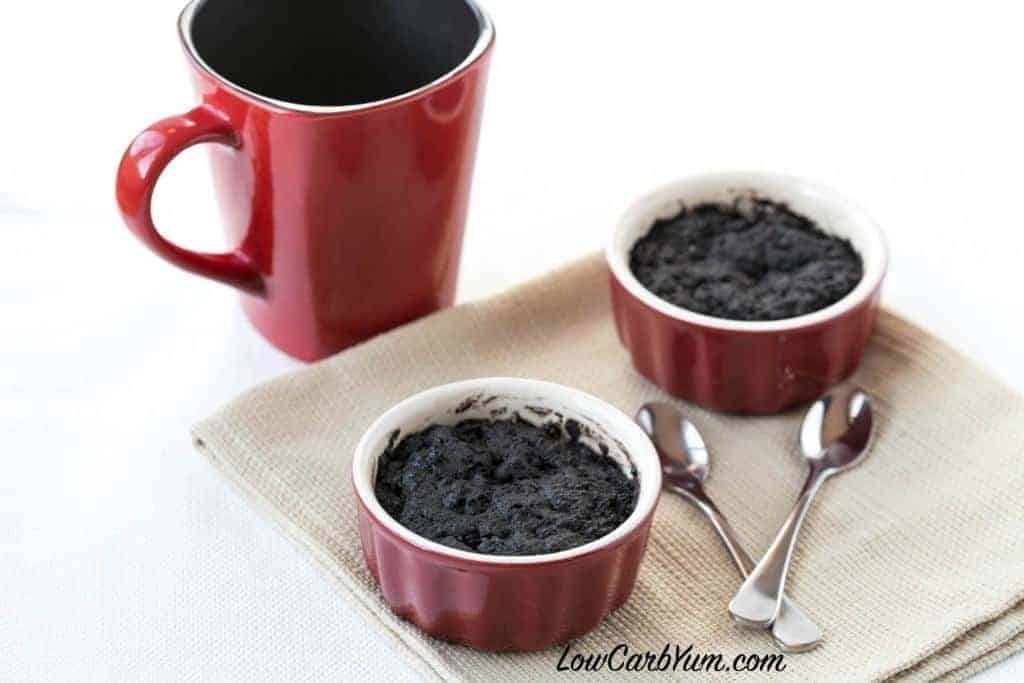 In awe,